Installing up a Pinecone Knowledge Base with Groove.ai
Sep 04, 2023
Pinecone allows you to store and create a knowledge base.
It gives you "Long-Term Memory for AI."
Pinecone is FREE, and No Credit Card is Required to use its free plan. You may choose to upgrade, but it is not necessary.
How secure is Pinecone?
Pinecone is SOC2 Type II compliant, and they take security seriously for all users on all plans. Read about their security practices.
Setting up PINECONE
Step 1 - Go to Pinecone.io and create a FREE account. No Credit Card Required. The initial settings do not matter as Groove.ai will be taking care of your account for you (you can select whatever settings you want for language, etc).
Step 2 - Click CREATE INDEX
Step 3 - Go to Pinecone.io and create a free account.
1 - Choose a name
2 - Configure dimensions to 1536
Leave on Cosine
3- Click Create Index
Step 4 - Click Manage Index
Step 5 -Get Name and Environment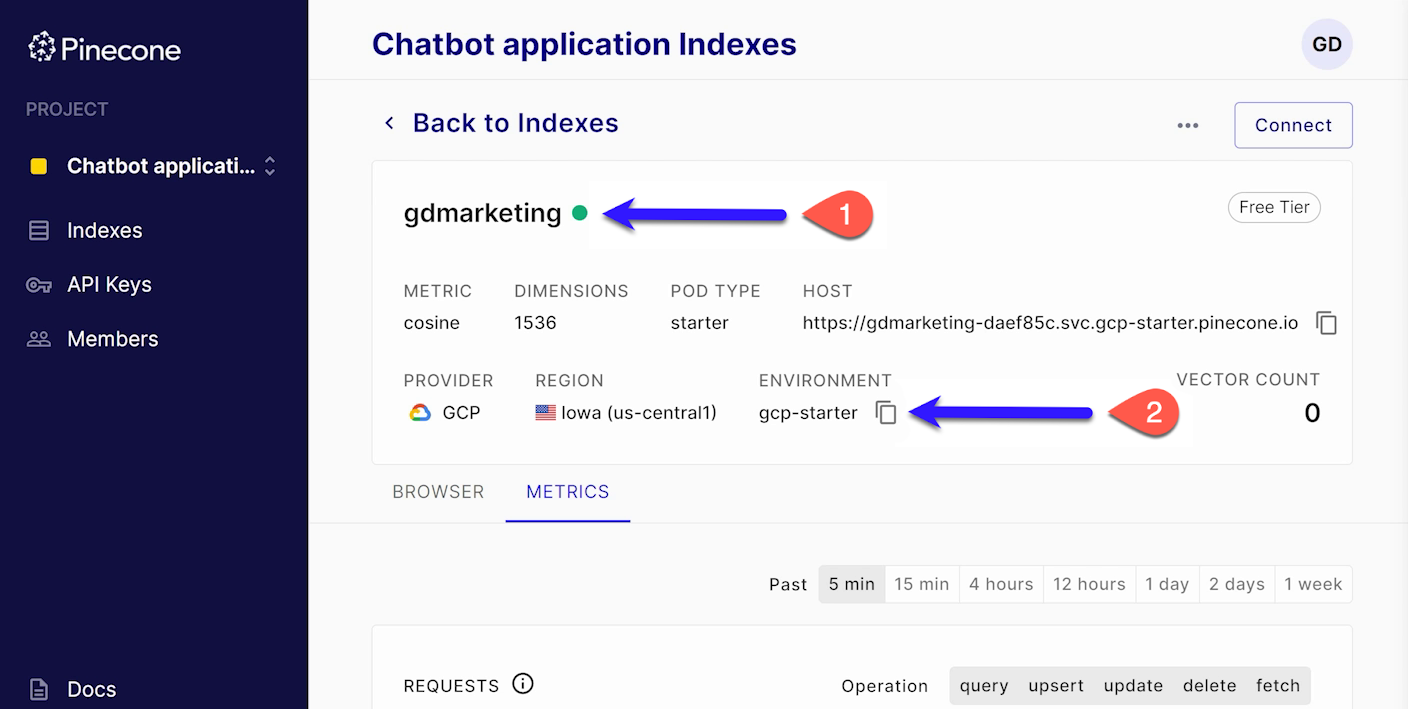 Step 6 - Get API Key
1- Click on API Keys in the left menu.
2- Click the copy icon to COPY your API key
3- Do not show or reveal your API key to anyone.
Step 7 - Login to your Groove.ai account.
1- Click on setting in the left menu
2- Click on >> Profile
3- Click the Knowledge Base service
4- Click on the EDIT Pencil icon
Step 1 - Enter your pinecone credentials
1- Index name is the name you called your index
2- Environment is what you copied in Step 5-2
3- API Key is what you copied in Step 6-2
4- Click on the EDIT to Save
Congratulations. You have successfully entered your Pinecone.io details.
Creating a Knowledge Base
Step 1 - Once you have integrated Pinecone.io in your account, you can add your first knowledgebase. From your dashboard, on the left side, click Knowledge Bases to begin. In the upper right, click "+ Create New Knowledge Base".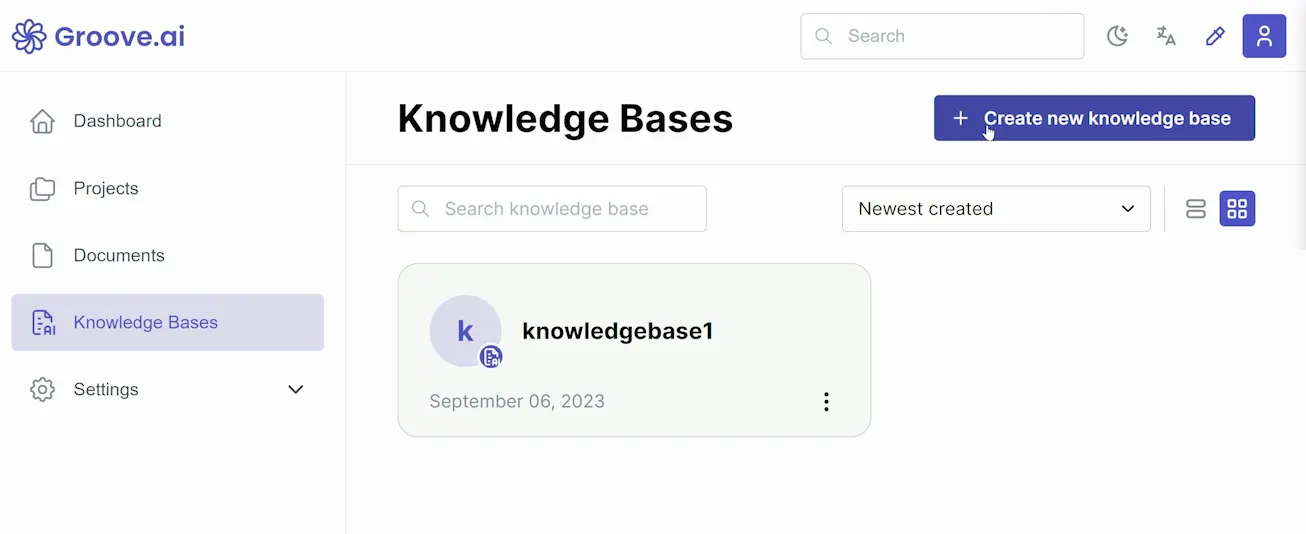 Step 2 - After you name your knowledge base (for your reference), you will have the option to manually add text to your knowledge base.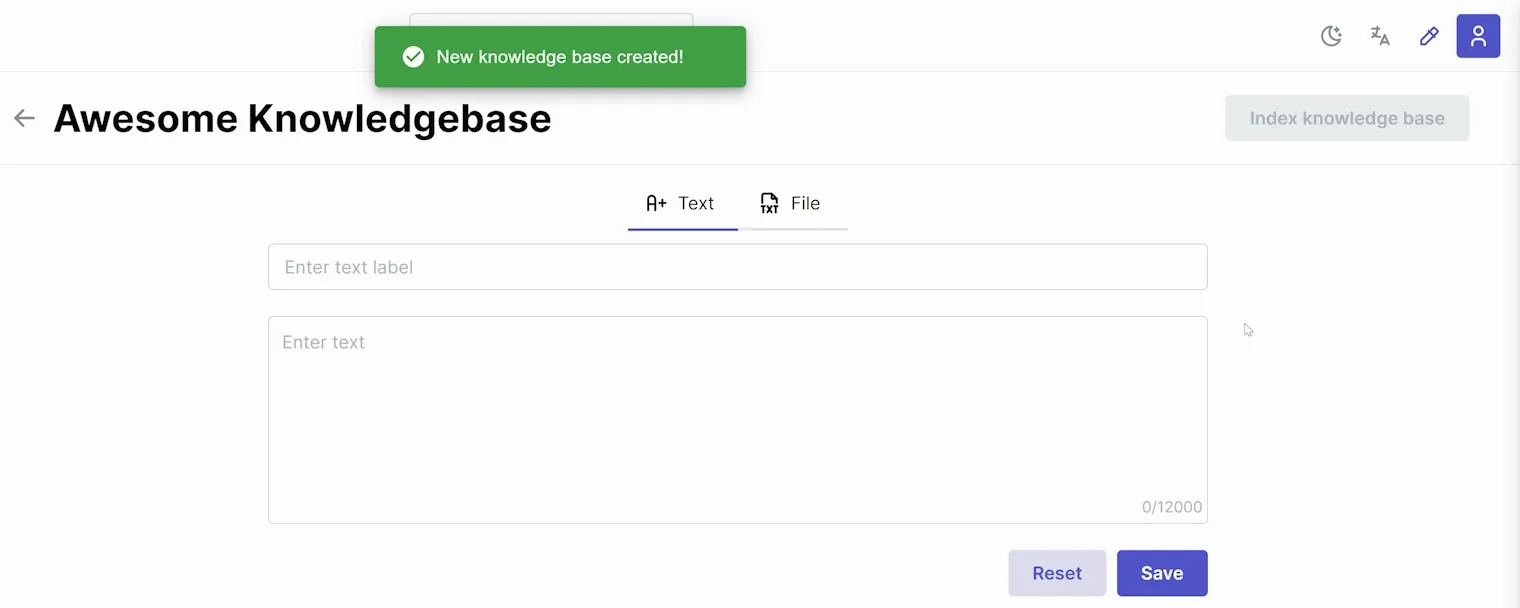 Or click the "File" tab to upload files for your knowledgebase. These can only be text, and below 5MB in size.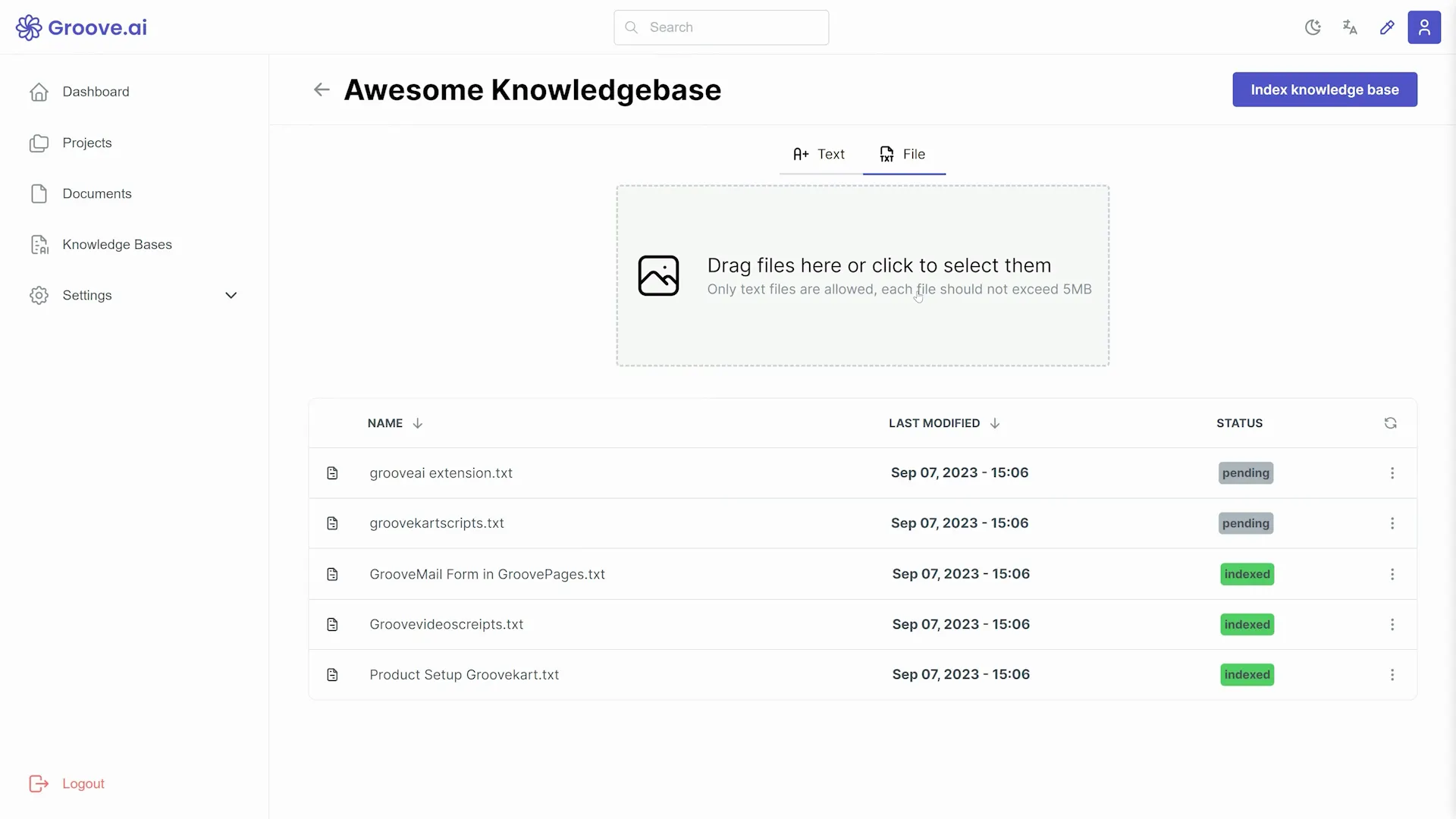 Step 3 - Once you have uploaded your files, simply click "Index Knowledge Base" in the upper right (shown above) to allow Pinecone.io to index your files. When done, the status will read "Indexed".
Now in your projects, you can select a knowledgebase from the drop-down menu and all of your files will be accessible by the chat system!